$25.00
AUD
Category: Picture Books
A spectacular new title from world-renowned artist Oliver Jeffers, creator of the million-copy selling, global phenomenon Here We Are! What shall we build, you and I? I'll build your future and you'll build mine. We'll build a watch to keep our time. A father and daughter set about laying the found ations for their life together. Using their own special tools, they get to work; building memories to cherish, a home to keep them safe and love to keep them warm. From renowned, internationally bestselling picture-book creator and visual artist, Oliver Jeffers, comes this rare and enduring story about a parent's boundless love, life's endless opportunities and all we need to build a together future. ...Show more
$25.00
AUD
Category: Picture Books
There is a lot to learn about being a ballerina. It is hard work and can seem silly at times. But when you walk out on the stage, it's like magic and fireworks and Christmas-tree lights in your tummy.   From the team behind the best-selling All of the Factors of Why I Love Tractors comes a cheeky story about discovering the joys of dance.  ...Show more
Sing Me the Summer
by Jane Godwin; Alison Lester (Illustrator)
$25.00
AUD
Category: Picture Books
Splash into summer with this glorious love letter to the seasons. Combining Jane Godwin's sparkling text and Alison Lester's whimsical watercolours, Sing Me the Summer celebrates those precious everyday moments that stay with us forever.
$18.00
AUD
Category: Picture Books
Betty Bunny REALLY doesnt want carrots for dinner. And shell say and do ANYTHING to get rid of carrots forever! Watch as Betty goes through all the stages of being HANGRY in this hilarious (and very relatable) book by David Campbell.    
$25.00
AUD
Category: Picture Books | Series: Oi Frog
Armadillos sit on pillows, bunnies sit on honey and cheetahs sit on fajitas... Let Frog, Dog and Cat guide you through the alphabet from Aardvark to Zebra in this hilarious new picture book from the creators of Oi Frog! With a special fold-out surprise! The laughter never ends with Oi Frog and Friends! Praise for Oi Frog!: 'An absolute treat' - Daily Mail 'Everyone will love it' - Guardian ...Show more
$25.00
AUD
Category: Picture Books
 THE NEW PICTURE BOOK FROM SEVEN-TIME CBCA BOOK OF THE YEAR WINNER FREYA BLACKWOOD Jules and George are the same in every way. It is quite impossible to tell them apart. Like all twins, Jules and George do everything together. But after a long, hot day at the beach, even twins sometimes disagree ... Fro m multi-award-winning picture book creator Freya Blackwood comes a cheeky and charming story about the ups and downs of sibling love. ...Show more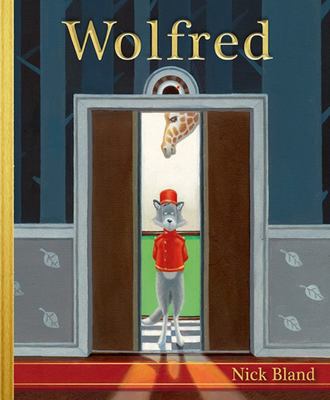 $25.00
AUD
Category: Picture Books
A mesmerising new story and instant classic from the beloved author of the best-selling ​Very Cranky Bear books.  Fancy Pants Tower is the biggest, shiniest building in the city. And Wolfred operates the lift. Each day he silently observes the extraordinary things he sees as he passes between the floor s of the tower.  To his boss, Wolfred isn't important enough to notice. But Wolfred notices everything – big or small, normal or very, very strange ...   Wes Anderson's The Grand Budapest Hotel meets Helen Oxenbury's The Three Little Wolves and the Big Bad Pig in this hilariously oddball tale of Wolfred, an endearing elevator operator and writer, and the strange building he works in. ...Show more
$30.00
AUD
Category: Pop-Up
Discover a world of extraordinary beasts, where Cyclops storm in Ancient Greece and the fearsome Ushi-Oni haunts the coast of Japan. Open the pages to unleash 15 incredible pop-up monsters ... if you dare. From the award-winning creator of My First Pop-Up Dinosaurs comes a second striking pop-up treasur y. With Owen Davey's irresistibly stylish illustrations, this exploration of mythological monsters is perfect for those who love the fantastical.   ...Show more
$35.00
AUD
Category: Picture Books
This enchantingly illustrated natural history of fairies, compiled in the 1920s by the botanist Professor Elsie Arbour for her niece, is now unveiled for readers of today. Featuring a gold foil-embossed cloth cover, a ribbon marker, and sprayed gold edges, this gorgeous volume is filled with colorful s ketches and precise notes detailing the secret life of fairies and their important role in the natural world. Inside, you will discover the wide and wonderful array of different species of fairies around the globe and explore where and how they live.   ...Show more
$30.00
AUD
Category: Picture Books
A gorgeous lift-the-flap counting game that pairs parent animals with their babies, from the bestselling author of Room on the Broom. From a bat and its pup, to a frog and its twelve tadpoles, young readers will delight in counting each creature's babies and learning unusual scientific names for young animals. With rhyming text, lift-the-flaps and peekaboo holes, and a surprise search-and-find element, this is a read-aloud delight and preschool must-have. ...Show more
$17.00
AUD
Category: Picture Books
Everyone loves Bandit, especially Bluey and Bingo! Find out what makes this true blue dad so special in this hilarious and heartwarming book. Bluey has been a phenomenal success since airing on ABC KIDS in October 2018, amassing legions of dedicated fans and taking the coveted position of being the most watched program ever on ABC iView, with over 200 million plays.  ...Show more
$25.00
AUD
Category: Picture Books
Chirton Krauss is a good child - the very goodest. He does everything he is told, when he is told. He even does good things without being told. He eats his broccoli, he goes to bed on time and he never, ever sticks his finger up his nose. Meanwhile, Chirton's sister, Myrtle, is NOT a good child. She sta ys up late, she never cleans out the rabbit's hutch and she drops her choco puffs all over the carpet! But what will happen when Chirton Krauss decides that being THE GOODY isn't so good after all? A charmingly funny story about the importance of kindness, and allowing children the freedom to be themselves. From Lauren Child, multi-award-winning creator of Charlie and Lola and Waterstone's Children's Laureate 2017-2019. ...Show more