$25.00
AUD
Category: Picture Books
Splash into summer with this glorious love letter to the seasons. Combining Jane Godwin's sparkling text and Alison Lester's whimsical watercolours, Sing Me the Summer celebrates those precious everyday moments that stay with us forever.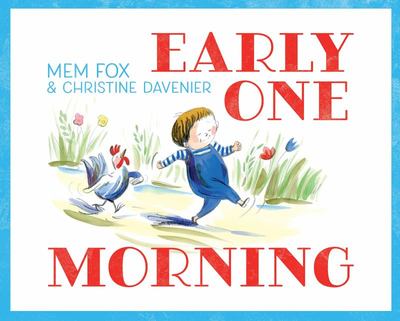 $20.00
AUD
Category: Picture Books
Early one morning on the farm, a boy sets out to find his breakfast. Where could it be? In the tractor? In the haystack? With the sheep? With the ponies? Little readers will delight in the story's guessing game and following the boy on his ramble around the farm.  
Maybe...
by Chris Haughton
$28.00
AUD
Category: Picture Books
From Chris Haughton comes a funny, suspenseful and keenly observed cautionary tale about pushing boundaries and indulging your more mischievous, cheeky side (when nobody is looking). Three little monkeys, and their big monkey, are sat high up on their branch in the forest canopy. "Ok, monkeys! I'm off, " says the big monkey. "Now remember. Whatever you do, do NOT go down to the mango tree. There are tigers down there." Mmm … mangos! think the little monkeys. They LOVE mangos. Hmm ... maybe … maybe they could just look at the mangos? That'd be ok, right? ...Show more
$25.00
AUD
Category: Picture Books | Series: World of Claris
Meet Oli and Basil, the dashing frogs of travel, in Megan Hess's first World of Claris story!   Two frogs dream of flying, but don't realise that they'll need each other to take to the skies ...   Oli is an artist who dreams up wild, fabulous machines, but he doesn't know how to build them. And Basil is a master craftsman who can build anything from scratch - except he doesn't know what to build.  If only there was a way that these two dashing frogs could become friends ... From the beloved creator of the Claris stories comes this heart-warming adventure about the joys of newfound friendship. The first World of Claris adventure from beloved children's author Megan Hess. Destined to delight fashion-obsessed readers of all ages!   ...Show more
$17.00
AUD
Category: Picture Books
In this stellar picture book by New York Times Best Illustrated Book recipient Leo Timmers, three knights go looking in the dark for a dragon. The king won't sleep until they find it. The knights know everything about dragons. With only one candle between them, they go out into the night. Is that a drag on? Attack! ...Show more
$27.00
AUD
Category: Picture Books
Little one, when we say Black Lives Matter,we're saying black people are wonderful-strong. That we deserve to be treated with basic respect,and that history's done us wrong. From birth to the end of school, in joy and in sorrow, on the trumpet and the djembe, at home and in the community, a black child' s parents remind him why Black Lives Matter. A gorgeous and essential picture book for children of all ages from bestselling and award-winning author Maxine Beneba Clarke.In When We Say Black Lives Matter, a black child's parents explain what the term Black Lives Matter means to them: in protest and song, in joy and in sorrow. I see this picture book as an act of Black Love - I was inspired to write and create it when thinking about how to explain the concept of Black Lives Matter to the young African diaspora kids in my extended family, living in over eight different countries across the world - including America, Australia, Germany, Barbados and England. - Maxine Beneba Clarke, on writing WHEN WE SAY BLACK LIVES MATTERA portion of the proceeds from the sale of this book will be donated to the Indigenous Literacy Foundation. ...Show more
$25.00
AUD
Category: Picture Books
I love spaghetti with heaps of sauce and always make a mess, of course! I use my fork, my spoon, my hands. It's so much fun to twirl the strands! Discover the squishy world of spaghetti, where learning the alphabet has never been more fun . . . or more tasty! My Spaghetti abc is the perfect book for spa ghetti lovers of all ages. ...Show more
$25.00
AUD
Category: Picture Books
Art imitates life in this hilarious, absurdist picture book--one of Jon Agee's most beloved titles, now back in print. Outrageous the judges cried. Ridiculous Who would dare enter a portrait of a duck in the Grand Contest of Art? But when Felix Clouseau's painting quacks, he is hailed as a genius. Sudde nly everyone wants a Clousseau masterpiece, and the unknown painter becomes an overnight sensation. That's when the trouble begins. ...Show more
Olive
by Wyatt, Edwina
$25.00
AUD
Category: Picture Books
Lilah's beloved cat dies and all she's left with is an olive tree to remember her by. Seasons pass and the tree grows but Lilah is too grief stricken to see its beauty and connection to Olive. Until, one day, in the safety of the tree's branches, and with the help of a stray cat, Lilah is ready to remem ber.When we open our hearts, love finds us. ...Show more
$25.00
AUD
Category: Australian Picture Books
A wonderful companion to Gregg Dreise's highly acclaimed My Culture and Me, this joyful picture book celebrates Australia's Indigenous heritage and the diversity we enjoy today. Hello and welcome to our corrobboree. Hello and welcome to our gathering. Father Sky, Mother Earth together here with me. Diff erent colours, different people, together in harmony. ...Show more

The Problem with Pierre
by C. K. Smouha; Suzanna Hubbard (Illustrator)
$25.00
AUD
Category: Picture Books
The differences between Bertram and his neighbor Alan were never a problem until a fussy cat entered the equation! Alan and Betram are next-door neighbors. They are also best friends. They are also very, very different to one another. Bertram is extremely neat, and Alan is wildly messy. When Bertram get s a cat, called Pierre, he is dismayed to find that Pierre prefers it at Alan's house. Alan tries to help his friend out - giving him his old sheepskin coat, his chipped bowl and finally, his beat up old sofa. At last, Pierre and Bertram are happy, but Alan is not - he has no company and no sofa. Fortunately, Bertram comes up with a brilliant solution to the problem... The Problem With Pierre plays with the format of the book, returning to split spreads in which Bertram's neat-as-a-pin living room is on the left and Alan's homely chaos is on the right. When, at the end, Bertram knocks through the wall between the two houses, and puts the sofa in the middle, there is a coming together of content and format that is sure to delight readers young and old. ...Show more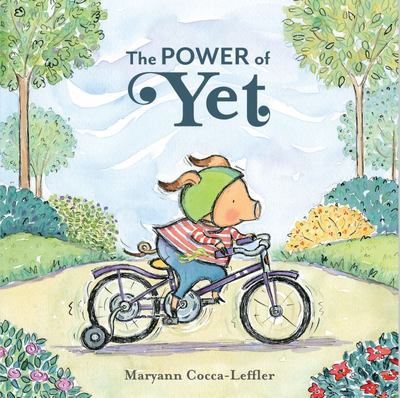 $25.00
AUD
Category: Picture Books
"I can't do it!""Can't do it yet."This charming picture book tells the story of one small piglet who uses the Power of Yet to conquer frustration. While it may not be possible to perfectly flip pancakes or play the violin yet, with practice and patience and courage and grit, anything is possible!