$20.00
AUD
Category: Graphic Novels
In Pumpkinheads, beloved #1 New York Times bestselling author Rainbow Rowell and Eisner Award-winning artist Faith Erin Hicks have teamed up to create this tender and hilarious story about two irresistible teens discovering what it means to leave behind a place--and a person--with no regrets. Deja and Josiah are seasonal best friends. Every autumn, all through high school, they've worked together at the best pumpkin patch in the whole wide world. (Not many people know that the best pumpkin patch in the whole wide world is in Omaha, Nebraska, but it definitely is.) They say good-bye every Halloween, and they're reunited every September 1. But this Halloween is different--Josiah and Deja are finally seniors, and this is their last season at the pumpkin patch. Their last shift together. Their last good-bye. Josiah's ready to spend the whole night feeling melancholy about it. Deja isn't ready to let him. She's got a plan. What if--instead of moping and the usual slinging lima beans down at the Succotash Hut--they went out with a bang? They could see all the sights. Taste all the snacks. And Josiah could finally talk to that cute girl he's been mooning over for three years . . . What if their last shift was an adventure? ...Show more
$28.00
AUD
Category: Graphic Novels
A graphic-novel mystery adventure for eight- to twelve-year-olds in which a girl and boy uncover the secret that has corrupted their seaside town. "Haven't you always thought there's something WEIRD about this town, Miro?" Miro and Zia live in Aurora, a fishing town nestled in the shadow of an ancient c astle. Miro lives in his books; Zia is never without her camera. The day they meet, they uncover a secret. The fishing works, the castle, and the town council are all linked to an ill-fated 1930s Antarctic expedition. But the diary of that journey has been hidden, and the sea is stirring up unusual creatures. Something has a powerful hold over the town. With Zia determined to find out more, Miro finds himself putting aside his books for a real adventure. The Inkberg Enigma is an exciting adventure with a strong filmic narrative. ...Show more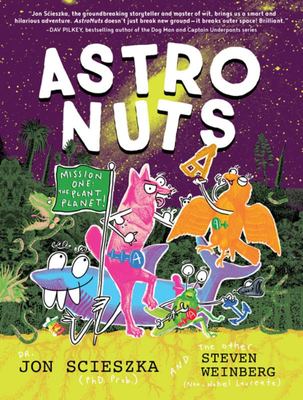 The Astro-Nuts
by Jon Scieszka; Steven Weinberg (Illustrator)
$30.00
AUD
Category: Graphic Novels
It's happening - the end of the world is upon us. It's time to look elsewhere to find a new home. Enter the AstroNuts! Narrated by Planet Earth, this book is about four hybrid animals - LaserShark, AstroWolf, SmartHawk, and StinkBug - created by NNASA (Not-NASA) to explore other planets. The criteria: 1 . Must be unoccupied. 2. Must support human life. When the Nuts reach their first destination, The Plant Planet, it looks perfect. It's lush with plant life, full of natural food, and seemingly uninhabited. But what if that plant life can think for itself? And what if it thinks it doesn't like our Nuts? ...Show more
$35.00
AUD
Category: Graphic Novels
A stunning companion to Tales from Outer Suburbia, this collection of illustrated short stories is sure to delight Shaun Tan fans of all ages. Where can we live if not in each other's shadow?World-renowned artist Shaun Tan applies his unique imagination to a reflection on the nature of humans and animal s, and our urban coexistence. From crocodile to frog, tiger to bee, this is a dark and surreal exploration of the perennial love and destruction we feel and inflict - of how animals can save us, and how our lives are forever entwined, for better or for worse.Tales from the Inner City is a masterful work, bearing all of Shaun Tan's trademark wit and poignancy in both its prose and exquisite illustrations. ...Show more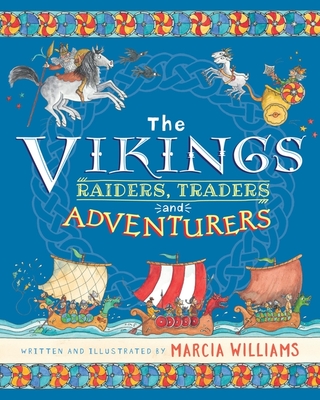 $28.00
AUD
Category: Graphic Novels
Travel back in time and discover the amazing world of the Vikings with award-winning author-illustrator Marcia Williams. Meet legendary warriors, daring explorers and clever kings in this colourful introduction to the Vikings. With Marcia Williams (and Loki!) as your guide, discover incredible stories o f Viking raids, voyages of discovery and conquered kingdoms. Told in comic-strip style and packed with jokes and facts, this is the perfect guide to the Viking world. ...Show more
$22.00
AUD
Category: Graphic Novels | Series: Peapod Farm Ser.
This contemporary middle-grade graphic novel about family and belonging from New York Times bestselling author Lucy Knisley is a perfect read for fans of Awkward and Be Prepared. Jen is used to not getting what she wants. So suddenly moving the country and getting new stepsisters shouldn't be too much of a surprise. Jen did not want to leave the city. She did not want to move to a farm with her mom and her mom's new boyfriend, Walter. She did not want to leave her friends and her dad. Most of all, Jen did not want to get new "sisters," Andy and Reese. As if learning new chores on Peapod Farm wasn't hard enough, having to deal with perfect-at-everything Andy might be the last straw for Jen. Besides cleaning the chicken coop, trying to keep up with the customers at the local farmers' market, and missing her old life, Jen has to deal with her own insecurities about this new family . . . and where she fits in. New York Times bestselling author Lucy Knisley brings to life a story inspired from her own childhood in an amazing journey of unlikely friends, sisters, and home. "Funny, sweet, and real." -Jennifer & Matthew Holm, co-creators of the bestselling Babymouse series "This book is gorgeous. Highly recommended." -Kristen Gudsnuk, creator of Making Friends ...Show more
$20.00
AUD
Category: Graphic Novels | Series: Making Friends Ser.
Dany, Madison, and...wait-another Dany? -must navigate some very complicated friendships while trying to capture a magical dog that is turning their town upside-down Almost everything is going great for Dany. She and Madison are still best friends, she still has her magic sketchbook, and the new school year is looking up. But when Dany creates a duplicate of herself to secretly help with homework and raise her social status, the two of them accidentally unleash a magical dog that wreaks supernatural havoc on the town. Now, with the big school dance coming up, time is running short for Dany, Madison, and their friends to set things right before the night is completely ruined ...Show more
$15.00
AUD
Category: Graphic Novels | Series: The Baby-Sitters Club Graphix
Kristy, Mary Anne, Claudia, and Stacey are best friends and founding members of The Baby-sitters Club. Whatever comes up -- cranky toddlers, huge dogs, scary neighbors, prank calls -- you can count on them to save the day. Baby-sitting isn't always easy, and neither is dealing with strict parents, new f amilies, fashion emergencies, and mysterious secrets. But no matter what, the BSC have what they need most: friendship.Raina Telgemeier, using the signature style featured in her acclaimed graphic novels Smile and Sisters, perfectly captures all the drama and humor of the original novel ...Show more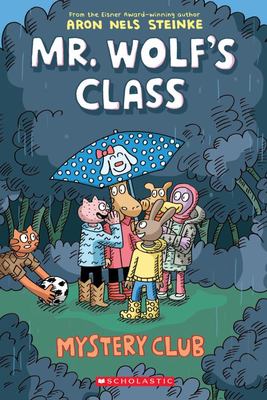 $20.00
AUD
Category: Graphic Novels | Series: Mr. Wolf's Class Ser.
Another charming and funny adventure in the Mr. Wolf's Class series Mr. Wolf's students are settling into their new classroom, and Randy, Aziza, and Margot realize they have some questions:   1. What happened to Aziza's favorite Frisbee?2. Is the girls' bathroom really haunted?3. Where is Mr. Greens, the teacher who disappeared?   To answer these questions, the three friends start a mystery club What could be more fun? Meanwhile, Abdi is wondering what happens to the balls that are accidentally kicked over the fence during recess, and thinks he'll be a hero if he can find his best friend's football.   Mysteries abound at Hazelwood Elementary ...Show more
$30.00
AUD
Category: Graphic Novels
 A superb graphic adaptation  '12th June, 1942: I hope I will be able to confide everything to you, as I have never been able to confide in anyone, and I hope you will be a great source of comfort and support.' In the summer of 1942, fleeing the horrors of the Nazi occupation, Anne Frank and her famil y were forced into hiding in the back of an Amsterdam warehouse. Aged thirteen when she went into the secret annexe, Anne Frank kept a diary in which she confided her innermost thoughts and feelings, movingly revealing how the eight people living under these extraordinary conditions coped with the daily threat of discovery and death. Adapted by Ari Folman, illustrated by David Polonsky, and authorized by the Anne Frank Foundation in Basel, this is the first graphic edition of the beloved diary of Anne Frank. 'Astonishing and excruciating. Its gnaws at us still' New York Times Book Review 'A modern classic' The Times 'Mesmerizing... Polonsky creates unforgettable panels that enable us to see Anne Frank's writing in a fresh light' Frankfurter Allgemeine Zeitung (Germany) ...Show more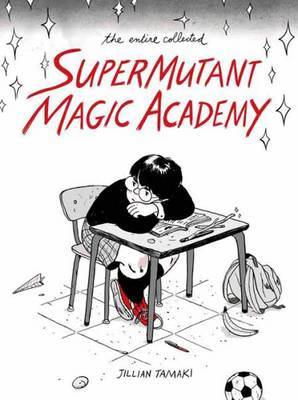 $35.00
AUD
Category: Graphic Novels
Unrequited love, underage drinking, and teen angst rule at a high school for mutants and witchesThe New York Times and New Yorker illustrator Jillian Tamaki is best known for co-creating the award-winning young adult graphic novels Skim and This One Summer—moody and atmospheric bestsellers. SuperMutant Magic Academy, which she has been serializing online for the past four years, paints a teenaged world filled with just as much ennui and uncertainty, but also with a sharp dose of humor and irreverence. Tamaki deftly plays superhero and high-school Hollywood tropes against what adolescence is really like: The SuperMutant Magic Academy is a prep school for mutants and witches, but their paranormal abilities take a backseat to everyday teen concerns. Science experiments go awry, bake sales are upstaged, and the new kid at school is a cat who will determine the course of human destiny. In one strip, lizard-headed Trixie frets about her nonexistent modeling career; in another, the immortal Everlasting Boy tries to escape this mortal coil to no avail. Throughout it all, closeted Marsha obsesses about her unrequited crush, the cat-eared Wendy. Whether the magic is mundane or miraculous, Tamaki's jokes are precise and devastating. SuperMutant Magic Academy has won two Ignatz Awards. This volume combines the most popular content from the webcomic with a selection of all-new, never-before-seen strips that conclude Tamaki's account of life at the academy. ...Show more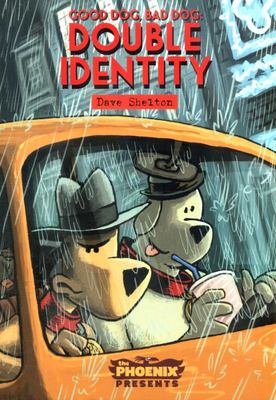 $17.00
AUD
Category: Graphic Novels | Series: The Phoenix Presents
Muttropolis is movie central, and there's been a killing in Collie-wood. This calls for Kirg Bergman and Duncan McBoo, the craftiest cops around! The city is full of mean mongrels who are determined to stop them sniffing out the truth. But they haven't reckoned with the finest milkshake-fuelled minds in the force! Criminals beware: Bergman and McBoo are on your tail! ...Show more