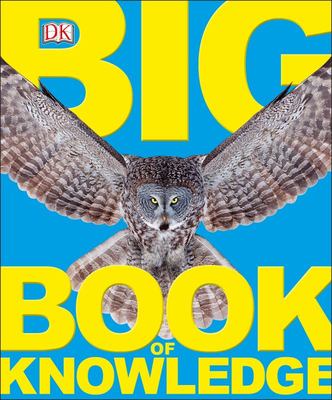 $20.00
AUD
Category: Reference
The perfect encyclopedia for any information-hungry kid who wants to boost their general knowledge, this pocket-sized book is packed full of facts. From earthquakes to Marco Polo, magnets to how the brain works, this fully updated 600-page book of knowledge covers just about every topic that a curious c hild will want to learn about. The perfect resource for school-aged children, this book will be a reference point for years' worth of homework, research, and school projects. Updated photography and illustration are combined to show what others only tell you. Annotation points out the details that you might miss at first and gives you a detailed overview of every subject you can think of. A whole world of discovery awaits in the Big Book of Knowledge, and it will keep curious kids endlessly entertained and captivated. ...Show more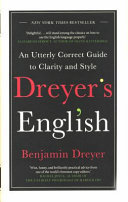 $35.00
AUD
Category: Reference
_______________________'An utterly delightful book to read, Dreyer's English will stand among the classics on how to use the English language properly.' ELIZABETH STROUT_______________________ An indispensable, New York Times-bestselling guide to the craft of writing from Random House's long-time copy c hief and one of Twitter's leading language gurus. We all write, all the time- books, blogs, tweets, emails, emails, emails - and we all want to write better. Benjamin Dreyer is here to help. As Random House's copy chief, Dreyer has upheld the standards of the legendary publisher for more than two decades. He is beloved by authors and editors alike - not to mention his followers on social media - for playfully, brilliantly deconstructing the English language. Dreyer's English is the distillation of everything he has learned from copy-editing thousands of books, the perfect guide not just for writers but for everyone who wants to put their best prose foot forward. Both authoritative and amusing, Dreyer's English offers lessons on punctuation, from the underloved semicolon to the enigmatic en-dash; the rules and nonrules of grammar, including why it's OK to begin a sentence with "And" or "But" and to confidently split an infinitive; and why it's best to avoid the doldrums of the Wan Intensifiers and Throat Clearers, including "very," "rather," "of course," and the dreaded "actually." And yes- "Only godless savages eschew the Oxford comma." Stuffed with advice, insider wisdom, and fun facts, this book will prove to be invaluable to everyone who wants to shore up their writing skills, mandatory for people who spend their time editing and shaping other people's prose, and - perhaps best of all - an utter treat for anyone who simply revels in language. _______________________ This book is written in British English._______________________ 'Benjamin Dreyer's brilliant, pithy, incandescently intelligent book is to contemporary writing what Geoffrey Chaucer's poetry was to medieval English- a gift that broadens and deepens the art and the science of literature by illustrating that convention should not stand in the way of creativity, so long as that creativity is expressed with clarity and with conviction.' JON MEACHAM 'Meet the guardian of grammar who wants to help you be a better writer. Benjamin Dreyer sees language the way an epicure sees food. And he finds sloppiness everywhere he looks.' THE NEW YORK TIMES 'Playful, smart, self-conscious, and personal . . . One encounters wisdom and good sense on nearly every page of Dreyer's English.' WALL STREET JOURNAL 'Destined to become a classic.' THE MILLIONS 'A mind-blower--sure to jumpstart any writing project, just by exposing you, the writer, to Dreyer's astonishing level of sentence-awareness.' GEORGE SAUNDERS 'Dreyer can help you . . . with tips on punctuation and spelling. . . . Even better- He'll entertain you while he's at it.' NEWSDAY 'It is Benjamin Dreyer's intense love for the English language and his passion for the subject that make the experience of reading Dreyer's English such a pleasure, almost regardless of the invaluable and practical purpose his book serves in such dark and confusing times for grammar and meaning.' AYELET WALDMAN & MICHAEL CHABON 'This work is that rare writing handbook that writers might actually want to read straight through, rather than simply consult.' PUBLISHERS WEEKLY ...Show more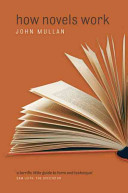 $30.00
AUD
Category: Reference
Never has contemporary fiction been more widely discussed and passionately analysed; recent years have seen a huge growth in the number of reading groups and in the interest of a non-academic readership in the discussion of how novels work. Drawing on his weekly Guardian column, 'Elements of Fiction', J ohn Mullan examines novels mostly of the last ten years, many of which have become firm favourites with reading groups. He reveals the rich resources of novelistic technique, setting recent fiction alongside classics of the past. Nick Hornby's adoption of a female narrator is compared to Daniel Defoe's; Ian McEwan's use of weather is set against Austen's and Hardy's; Carole Shield's chapter divisions are likened to Fanny Burney's. Each section shows how some basic element of fiction is used. Some topics (like plot, dialogue, or location) will appear familiar to most novel readers; others (metanarrative, prolepsis, amplification) will open readers' eyes to new ways of understanding and appreciating the writer's craft. How Novels Work explains how the pleasures of novel reading often come from the formal ingenuity of the novelist.It is an entertaining and stimulating exploration of that ingenuity. ...Show more
$186.00
AUD
Category: Reference | Series: Chicago Manual of Style
Technologies may change, but the need for clear and accurate communication never goes out of style. That is why for more than one hundred years The Chicago Manual of Style has remained the definitive guide for anyone who works with words. In the seven years since the previous edition debuted, we have s een an extraordinary evolution in the way we create and share knowledge. This seventeenth edition of The Chicago Manual of Style has been prepared with an eye toward how we find, create, and cite information that readers are as likely to access from their pockets as from a bookshelf. It offers updated guidelines on electronic workflows and publication formats, tools for PDF annotation and citation management, web accessibility standards, and effective use of metadata, abstracts, and keywords. It recognizes the needs of those who are self-publishing or following open access or Creative Commons publishing models. The citation chapters reflect the ever-expanding universe of electronic sources--including social media posts and comments, private messages, and app content--and also offer updated guidelines on such issues as DOIs, time stamps, and e-book locators. Other improvements are independent of technological change. The chapter on grammar and usage includes an expanded glossary of problematic words and phrases and a new section on syntax as well as updated guidance on gender-neutral pronouns and bias-free language. Key sections on punctuation and basic citation style have been reorganized and clarified. To facilitate navigation, headings and paragraph titles have been revised and clarified throughout. And the bibliography has been updated and expanded to include the latest and best resources available. This edition continues to reflect expert insights gathered from Chicago's own staff and from an advisory board of publishing experts from across the profession. It also includes suggestions inspired by emails, calls, and even tweets from readers. No matter how much the means of communication change, The Chicago Manual of Style remains the ultimate resource for those who care about getting the details right. ...Show more
$12.00
AUD
Category: Reference
This is the reissued Oxford French Mini Dictionary - now in an attractive new format.This small dictionary offers the most accurate and up-to-date coverage of essential, everyday vocabulary with over 40,000 words and phrases and 60,000 translations. Easy-to-use colour design and a centre section of usef ul words and expressions listed by topic make this dictionary ideal for traveland quick reference. ...Show more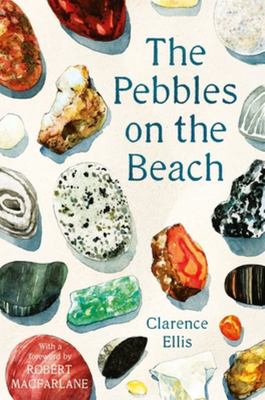 $25.00
AUD
Category: Reference
*Top 10 Sunday Times bestseller* The Pebbles on the Beach was first published in 1954. This newly reissued edition includes a foreword by Robert Macfarlane. There is a handy illustrated guide to identifying pebbles on the reverse of the book jacket. Pebble-hunting is a pleasant hobby that makes little d emand upon one's patience and still less upon one's physical energy. (You may even enjoy the hunt from the luxurious sloth of a deck chair). One of the true delights of the pebble-seeker is to read the stories in the stones - to determine whence and by what means they came to be there. We must always bear in mind that a pebble is a transient thing. It is in the half-way stage of a long existence . . . This is a book about the simple pleasure of pebble spotting. Clarence Ellis is a charming, knowledgeable and witty guide to everything you didn't know there was to know about pebbles. He ruminates on what a pebble actually is, before showing us how they are formed, advising on the best pebble-spotting grounds in the UK, helping to identify individual stones, and giving tips on the necessary kit. You'll know your chert from your schist, your onyx from your agate, and will be on your guard for artificial intruders before you know it. Understanding the humble pebble makes a trip to the beach, lake-side or river bank simply that little bit more fascinating. ...Show more
$11.00
AUD
Category: Reference | Series: State Map Ser.
The latest edition of the popular Victoria State and Suburban Map has been fully revised and updated and is the essential tool for those travelling around Victoria and Melbourne and includes: Victoria state map plus an index to the towns and localities featured on the map. Melbourne suburban map wit h coverage extending north to Sunbury and Steels Creek, south to Flinders, west to Melton, east to Healesville and Cockatoo Includes an inset for Geelong & the Bellarine Peninsula and Phillip Island coverage Includes an index to suburbs and localities for the suburban map coverage. ...Show more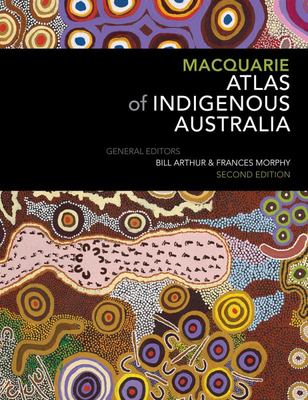 $80.00
AUD
Category: Reference
'The Macquarie Atlas of Indigenous Australia has a place on the work table of every Australian student, on the coffee table of every Australian home and on the desk of every Australian political representative.' Senator Patrick Dodson The Macquarie Atlas of Indigenous Australia is a unique tool for expl oring and understanding the lives and cultures of Australia's First Peoples. An atlas can represent - in graphic form - a pattern of human activities in space and time. This second edition of the award-winning Macquarie Atlas of Indigenous Australia opens a window onto the landscape of Australian Aboriginal and Torres Strait Islander lives, from over 60 000 years ago to the present time. Each chapter has been extensively revised and updated by one or more experts in the field, under the general editorship of Bill Arthur and Frances Morphy of the Centre for Aboriginal Economic Policy Research at the Australian National University. The maps, which form the core of the book, are supplemented by explanatory text and numerous diagrams, photographs and illustrations, including Indigenous artworks. This book is a collaborative publication between the Australian National University (ANU), the Australian Bureau of Statistics (ABS) and Macquarie Dictionary. ...Show more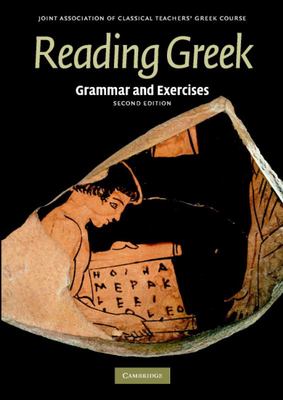 Reading Greek - Grammar and Exercises
by Cambridge University Press Staff; Joint Association of Classical Teachers Staff
$47.95
AUD
Category: Reference | Series: Reading Greek Ser.
First published in 1978, Reading Greek has become a best-selling one-year introductory course in ancient Greek for students and adults. It combines the best of modern and traditional language-learning techniques and is used widely in schools, summer schools and universities across the world. It has also been translated into several foreign languages. This volume provides full grammatical support together with numerous exercises at different levels. For the second edition the presentations of grammar have been substantially revised to meet the needs of today's students and the volume has been completely redesigned, with the use of colour. Greek-English and English-Greek vocabularies are provided, as well as a substantial reference grammar and language surveys. The accompanying Text and Vocabulary volume contains a narrative adapted entirely from ancient authors in order to encourage students rapidly to develop their reading skills, simultaneously receiving a good introduction to Greek culture. ...Show more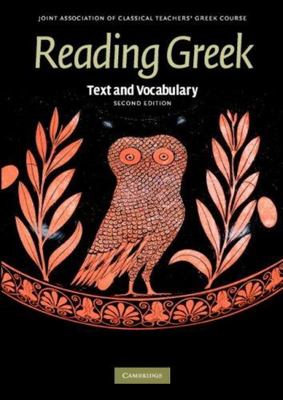 $41.95
AUD
Category: Reference | Series: Reading Greek Ser.
First published in 1978, Reading Greek has become a best-selling one-year introductory course in ancient Greek for students and adults. It combines the best of modern and traditional language-learning techniques and is used widely in schools, summer schools and universities across the world. It has also been translated into several foreign languages. This volume contains a narrative adapted entirely from ancient authors, including Herodotus, Euripides, Aristophanes and Demosthenes, in order to encourage students rapidly to develop their reading skills. Generous support is provided with vocabulary. At the same time, through the texts and numerous illustrations, students will receive a good introduction to Greek culture, and especially that of Classical Athens. The accompanying Grammar and Exercises volume provides full grammatical support together with numerous exercises at different levels, Greek-English and English-Greek vocabularies, a substantial reference grammar and language surveys. ...Show more
$40.00
AUD
Category: Reference | Series: Big Ideas Simply Explained
All the big ideas, simply explained - an innovative and accessible guide to sociology. Part of the popular Big Ideas series, The Sociology Book introduces you to the subject that tells you all about what society is and what makes it tick. With over 80 ideas from the world's most renowned sociologists, c overing topics as diverse as issues of equality, diversity, identity and human rights; the effects of globalization; the role of institutions, and the rise of urban living in modern society, this book details the key concepts of sociological thought. Discover all the big sociological ideas with quirky graphics, pithy quotes and step-by-step 'mind maps'. You'll be brought up-to-date on sociological ideas from Jeffrey Alexander to Sharon Zukin, with easy to navigate step-by-step summaries which explain each idea in a nutshell. It includes biographies of key sociologists from around the world, giving a historical context to each idea. Whether you are a sociology student or just have an interest in the workings of society, The Sociology Book is a perfect way to explore this fascinating subject. ...Show more
$14.95
AUD
Category: Reference
This small dictionary offers the most accurate and up-to-date coverage of essential, everyday vocabulary with over 90,000 words, phrases, and definitions based on evidence from the Oxford English Corpus, a unique databank comprising hundreds of millions of words of English. Definitions are easy to under stand, given in a clear, simple style, and avoiding technical language. Access our free dictionary service Oxford Dictionaries Online at oxforddictionaries.com. ...Show more