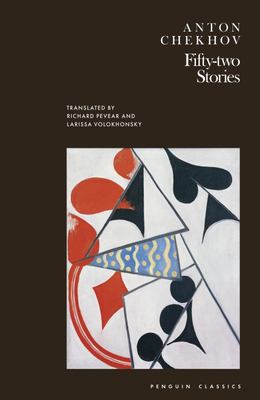 $50.00
AUD
Category: Classics
Chekhov's genius left an indelible impact on every literary form in which he wrote, but none more so than short fiction. Now renowned translators Richard Pevear and Larissa Volokhonsky give us their superb renderings of fifty-two Chekhov stories. These stories, which span the full arc of his career, rev eal the extraordinary variety of his work, from the farcically comic to the darkly complex. Including several never-before-translated stories, this is a collection that promises to delight. ...Show more
$20.00
AUD
Category: Classics | Series: Penguin Modern Classics
Florentino Ariza has never forgotten his first love. He has waited nearly a lifetime in silence since his beloved Fermina married another man. No woman can replace her in his heart. But now her husband is dead. Finally - after fifty-one years, nine months and four days - Florentino has another chance to declare his eternal passion and win her back. Will love that has survived half a century remain unrequited? ...Show more
Little Women (Clothbound Classic)
by Louisa May Alcott; Elaine Showalter (Introduction by); Siobhan Kilfeather (Notes by); Vinca Showalter (Notes by); Coralie Bickford-smith (Illustrator)
$35.00
AUD
Category: Classics | Series: Penguin Clothbound Classics Ser.
Top 10 Finalist on PBS's The Great American Read in 2018 Louisa May Alcott's heartwarming tale of the indelible bond between sisters This treasured novel, drawn in part from Louisa May Alcott's personal experience, brings to life the provincial yet abundantly full lives of the March sisters. Meg, Jo, Beth, and Amy manage to lead an interesting existence despite their father's absence at war and their family's lack of money. Whether they're putting on a play or forming a secret society, their gaiety is infectious. This novel is part of Brilliance Audio's extensive Classic Collection, bringing you timeless masterpieces that you and your family are sure to love. ...Show more
$15.00
AUD
Category: Classics | Series: The Penguin English Library
Inspired by recent current cultural movements (The Women_s March, #MeToo), and the new wave of feminism, these new releases of classic books feature strong female protagonists who must navigate difficult situations involving class and power, love and loss, sex and family, independence and societal norms , and more. From the front flap: "Maidish Meg, your girl Jo, quiet Beth, and wild Amy_give it up for the March ladies! As the oldest, pretty Meg_s trying to hold it all together, especially with their pops at war and their mom at work. Hey, somebody_s gotta have some sense and keep things running. Jo_s busy too, with her great aunt, but TBH she doesn_t have time for that girly stuff and just wants to write. Meanwhile, Beth stays at home to help around the house (she_s legit an angel, no joke), and young Amy_s at school, just trying to have a good time." The fam bam gets into it sometimes, but it_s all good; there_s always love at the end. Little Women is all about ultimate squad goals. Each book is packaged in an eye-catching luxe paperback format to appeal to the Generation Z buyer, though these timeless stories will appeal to anyone interested in the female experience throughout history. Other books in the Z Lit Classics series include: The Scarlet Letter, Tess of the D_Urbervilles, Sense and Sensibility, Tales from the 1001 Nights,, and The Awakening and Other Stories. ...Show more
$20.00
AUD
Category: Classics
WITH AN INTRODUCTION BY GILES FODEN London is under threat. It has become a haven for political exiles and anarchists. Frequent bomb threats and disturbances interrupt the lives of the city's inhabitants, who live in fear of the terrorists in their midst. One such terrorist is Verloc. He is the secret a gent who is given the mission to strike right at the heart of London's pride by blowing up Greenwich Observatory. But his decision to drag his innocent family into the plot leads to tragic consequences on a more personal than political level. ...Show more
$23.00
AUD
Category: Classics | Series: Virago Modern Classics Ser.
'If I really don't like somebody, I kill him . . . You remember Malcolm McRae, don't you?' Melinda Van Allen is beautiful, headstrong and sexy. Unfortunately for Vic Van Allen, she is his wife. Their love has soured, and Melinda takes pleasure in flaunting her many affairs to her husband. When one of he r lovers is murdered, Vic hints to her latest conquest that he was responsible. As rumours spread about Vic's vicious streak, fiction and reality start to converge. It's only a matter of time before Vic really does have blood on his hands. Books included in the VMC 40th anniversary series include: Frost in May by Antonia White; The Collected Stories of Grace Paley; Fire from Heaven by Mary Renault; The Magic Toyshop by Angela Carter; The Weather in the Streets by Rosamond Lehmann; Deep Water by Patricia Highsmith; The Return of the Soldier by Rebecca West; Their Eyes Were Watching God by Zora Neale Hurston; Heartburn by Nora Ephron; The Dud Avocado by Elaine Dundy; Memento Mori by Muriel Spark; A View of the Harbour by Elizabeth Taylor; and Faces in the Water by Janet Frame ...Show more
$25.00
AUD
Category: Classics
'Herodotus, from Halicarnassus, here displays his enquiries, that human achievement may be spared the ravages of time, and that everything great and astounding, and all the glory of those exploits which served to display Greeks and barbarians alike to such effect, be kept alive - and additionally, and m ost importantly, to give the reason they went to war.' So begins The Histories, the very first work of history and one of the most dramatic accounts of the ancient world ever written, brought to life again in Tom Holland's gripping new translation. 'Thrilling, a masterpiece on the grandest scale, the world's first prose epic . . . Holland brings a bristling new Herodotus to a new generation.' Justin Marozzi,Spectator'Energizing fast, funny, opinionated, clear and erudite . . . the best English translation of Herodotus to have appeared in the past half-century.' Edith Hall,The Times Literary Supplement'Tom Holland, like Herodotus, is a storyteller par excellence.' Peter Jones,New Statesman With an Introduction and Notes by Paul Cartledge ...Show more
$15.00
AUD
Category: Classics
Brave New World is a novel written in 1931 by Aldous Huxley and published in 1932. Set in London of AD 2540 (632 A.F. - "After Ford" - in the book), the novel anticipates developments in reproductive technology, sleep-learning, psychological manipulation, and operant conditioning that combine to profou ndly change society. ...Show more
$20.00
AUD
Category: Classics
To compose his stunning documentary film I Am Not Your Negro, acclaimed filmmaker Raoul Peck mined James Baldwin's published and unpublished oeuvre, selecting passages from his books, essays, letters, notes, and interviews that are every bit as incisive and pertinent now as they have ever been. Weaving these texts together, Peck brilliantly imagines the book that Baldwin never wrote. In his final years, Baldwin had envisioned a book about his three assassinated friends, Medgar Evers, Malcolm X, and Martin Luther King. His deeply personal notes for the project have never been published before. Peck's film uses them to jump through time, juxtaposing Baldwin's private words with his public statements, in a blazing examination of the tragic history of race in America. ...Show more
$13.00
AUD
Category: Classics
Pride and PrejudiceBy Jane AustenElizabeth Bennet is Austen's most liberated and unambiguously appealing heroine, and Pride and Prejudice has remained over most of the past two centuries Austen's most popular novel. The story turns on the marriage prospects of the five daughters of Mr. and Mrs. Bennet: Elizabeth forms a prejudice against the proud and distant Mr. Darcy; Darcy's charming friend Charles Bingley falls in love with her sister Jane; and the handsome officer George Wickham forms attachments successively to Elizabeth and to her sister Lydia. Irvine's extensive introduction sets the novel in the context of the literary and intellectual history of the period, and deals with such crucial background issues as early-nineteenth century class relations in Britain, and female exclusion from property and power. ...Show more
$15.00
AUD
Category: Classics | Series: Puffin Modern Classics Ser.
Anne Franks The Diary of a Young Girl is not just a true story but also a piece of history. Written by Anne Frank for herself, at the age of 13, the diary contains candid and intimate details of Annes thoughts and feelings during the two years of the Second World War she and her family and friends staye d hidden. Anne and her family were eventually arrested and sent to the concentration camps,but her diary remains a testament of youthful experiences in times of war. ...Show more
$27.00
AUD
Category: Classics
The original 'Great American Novel', Herman Melville's "Moby-Dick" is a masterful study of obsession. This "Penguin Classics" edition contains an introduction by Andrew Delblanco, with explanatory commentary by Tom Quirk. 'Call me Ishmael.' So begins Herman Melville's masterpiece, one of the greatest wo rks of imagination in literary history. As Ishmael is drawn into Captain Ahab's obsessive quest to slay the white whale Moby-Dick, he finds himself engaged in a metaphysical struggle between good and evil. More than just a novel of adventure, more than an paean to whaling lore and legend, "Moby-Dick" is a haunting social commentary, populated by some of the most enduring characters in literature; the crew of the Pequod, from stern, Quaker First Mate Starbuck, to the tattooed Polynesian harpooner Queequeg, are a vision of the world in microcosm, the pinnacle of Melville's lifelong meditation on America. Written with wonderfully redemptive humour, "Moby-Dick" is a profound, poetic inquiry into character, faith, and the nature of perception. Based on the Northwestern University Press edition, this "Penguin Classics" edition includes a critical introduction by Andrew Delbanco, as well as valuable explanatory notes, maps, illustrations and a glossary of nautical terms. Herman Melville is now regarded as one of America's greatest novelists. Much of the material for his novels was drawn from his own experience as a seaman aboard whaling ships. He wrote his masterpiece "Moby-Dick" in 1851, and died in 1891. If you enjoyed "Moby-Dick", you may like Miguel de Cervantes' "Don Quixote", also available in "Penguin Classics". "After reading "Moby-Dick", you will have enhanced your sense of wonder, you will have increased the size of your universe". (E. M. Forster). "One of the strangest and most wonderful books in the world...It moves awe in the soul". (D. H. Lawrence). ...Show more