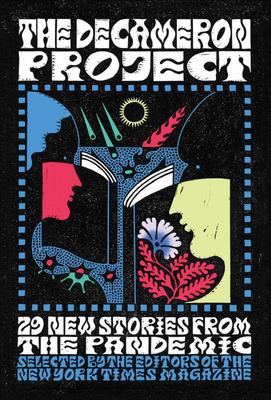 $35.00
AUD
Category: Anthologies & Journals
A stunning collection of new short stories originally commissioned by The New York Times Magazine as the COVID-19 pandemic swept the world, from twenty-nine authors including Margaret Atwood, Tommy Orange, Colm Toibin, Kamilia Shamsie, David Mitchell and more, in a project inspired by Boccaccio's The De cameron. When reality is surreal, only fiction can make sense of it. In 1353, Giovanni Boccaccio wrote "The Decameron": one hundred nested tales told by a group of young men and women passing the time at a villa outside Florence while waiting out the gruesome Black Death, a plague that killed more than 25 million people. Some of the stories are silly, some are bawdy, some are like fables. In March of 2020, the editors of The New York Times Magazine created The Decameron Project, an anthology with a simple, time-spanning goal: to gather a collection of stories written as our current pandemic first swept the globe. How might new fiction from some of the finest writers working today help us memorialize and understand the unimaginable? And what could be learned about how this crisis will affect the art of fiction? These twenty-nine new stories, from authors including Margaret Atwood, Tommy Orange, Edwidge Danticat, and David Mitchell vary widely in texture and tone. Their work will be remembered as a historical tribute to a time and place unlike any other in our lifetimes, and offer perspective and solace to the reader now and in a future where coronavirus is, hopefully, just a memory.   ...Show more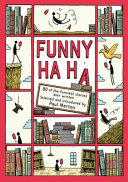 $35.00
AUD
Category: Anthologies & Journals
The Sunday TimesHumour Book of the Year. 80 of the funniest stories ever written, selected and introduced by Paul Merton. From Anton Chekhov to Ali Smith, from P.G. Wodehouse to Nora Ephron, the greatest writers are those who know how to laugh. Here, award-winning comedian and broadcaster Paul Merton br ings together his favourite funny stories of all time. Whether it's the silly, surreal, slap-stick or satirical that makes you smile, there's a story here to tickle every funny bone. From prize-winners and literary giants, to stand-up comedians and the rising stars of funny literature, this brilliant anthology is guaranteed to cheer your day. ...Show more
$33.00
AUD
Category: Anthologies & Journals
Tim Winton says, 'Surfing is not just a subculture, it is culture, and here's proof', while Jock Serong says that the collection demonstrates our horizons are unlimited. From Gold Coast surf culture to the relationships of humans to the sea and from surf travel in Mexico to Taj Burrow's final campaign in Fiji, this collection features six authors writing about surfing, and the ocean, in six very different ways. Their stories are reverential, energetic and mystical, and between them cover thousands of kilometres of coastline, at home and abroad. ...Show more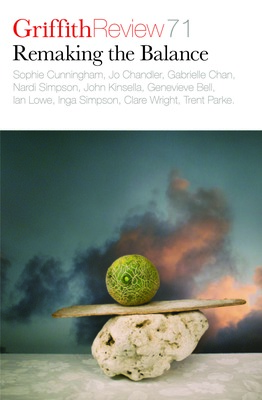 $28.00
AUD
Category: Anthologies & Journals
Griffith Review 71: Remaking the Balance features essays, reportage, memoir, fiction and poetry that examine our relationship with resources both tangible and intangible, physical and personal. What we grow, eat, mine, burn, transform and manufacture all place increasing stress on the world's ecosystems . And a planetary population of more than 7.8 billion means resources have never had to do more work, both economically and existentially. How can we change what we do with what we have? Work from this edition has been supported by funding from Copyright Agency Cultural Fund and the McLean Foundation. ...Show more
Kink
by Garth Greenwell & R.O. Kwon eds.
$30.00
AUD
Category: Anthologies & Journals
Kink is a groundbreaking anthology of literary short fiction exploring love and desire, BDSM, and interests across the sexual spectrum, edited by lauded writers R.O. Kwon and Garth Greenwell, and featuring a roster of all-star contributors including Alexander Chee, Roxane Gay, Carmen Maria Machado, and more.Kink is a dynamic anthology of literary fiction that opens an imaginative door into the world of desire. The stories within this collection portray love, desire, BDSM, and sexual kinks in all their glory with a bold new vision. The collection includes works by renowned fiction writers such as Callum Angus, Alexander Chee, Vanessa Clark, Melissa Febos, Kim Fu, Roxane Gay, Cara Hoffman, Zeyn Joukhadar, Chris Kraus, Carmen Maria Machado, Peter Mountford, Larissa Pham, and Brandon Taylor, with Garth Greenwell and R.O. Kwon as editors. The stories within explore bondage, power-play, and submissive-dominant relationships; we are taken to private estates, therapists' offices, underground sex clubs, private estates, and even a Victorian-era sex theater. While there are whips and chains, sure, the true power of these stories lies in their beautiful, moving dispatches from across the sexual spectrum of interest and desires, as portrayed by some of today's most exciting writers. ...Show more
$30.00
AUD
Category: Anthologies & Journals
Antipodean China is a collection of essays drawn from a series of encounters between Australian and Chinese writers, which took place in China and Australia over a ten-year period from 2011. The encounters could be defensive, especially given the need to depend on translators, but as the writers spoke a bout the places important to them, their influences and their work, resemblances emerged, and the different perspectives contributed to a sense of common understanding, about literature and about the role of the writer in society. In some cases the communication is even more direct, as when the Tibetan author A Lai speaks knowingly about Alexis Wright's novel Carpentaria, and the two winners of the Nobel Prize for Literature, Mo Yan and J.M. Coetzee, discuss what the Nobel meant for each of them.The collection also includes writing by some of the best Chinese and Australian writers: novelists Brian Castro, Gail Jones, Julia Leigh, Yu Hua, Sheng Keyi and Liu Zhenyun, poets Kate Fagan, Ouyang Yu, Xi Chuan and Zheng Xiaoqiong, and translators Eric Abrahamsen, Li Yao and John Minford.In the current situation of hostility and suspicion between the two countries, this collection presents what may be seen, in retrospect, as an idyllic moment of communication and trust. ...Show more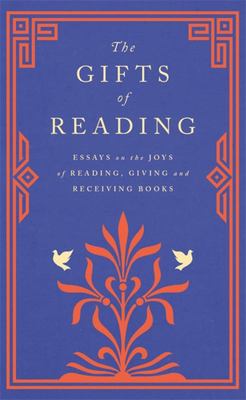 Gifts of Reading
by Jennie Orchard (Curated by); Robert Macfarlane; Jackie Morris; William Boyd; Candice Carty-Williams; Chigozie Obioma; Philip Pullman; Imtiaz Dharker; Roddy Doyle; Pico Iyer; Andy Miller
$33.00
AUD
Category: Anthologies & Journals
'This story, like so many stories, begins with a gift. The gift, like so many gifts, was a book...' So begins the essay by Robert Macfarlane that inspired this collection.In this cornucopia of an anthology, you will find essays by some of the world's most beloved novelists, nonfiction writers, essayists and poets.'You will see books taking flight in flocks, migrating around the world, landing in people's hearts and changing them for a day or a year or a lifetime.'You will see books sparking wonder or anger; throwing open windows into other languages, other cultures, other minds; causing people to fall in love or to fight for what is right.'And more than anything, over and over again, you will see books and words being given, received and read - and in turn prompting further generosity.'Published to coincide with the 20th anniversary of global literacy non-profit, Room to Read, The Gifts of Reading forms inspiring, unforgettable, irresistible proof of the power and necessity of books and reading.Inspired by Robert MacfarlaneCurated by Jennie OrchardWith contributions by: William Boyd, Candice Carty-Williams, Imtiaz Dharker, Roddy Doyle, Pico Iyer, Andy Miller, Jackie Morris, Jan Morris, Sisonke Msimang, Dina Nayeri, Chigozie Obioma, Michael Ondaatje, David PillingMax Porter, Philip Pullman, Alice Pung, Jancis Robinson, S.F.Said, Madeleine Thien, Salley Vickers, John Wood and Markus Zusak ...Show more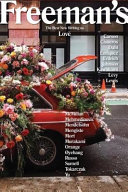 $25.00
AUD
Category: Anthologies & Journals
The latest instalment from 'a powerful force in the literary world' (Los Angeles Times) Freeman's turns to one of the greatest elevating forces of life: love.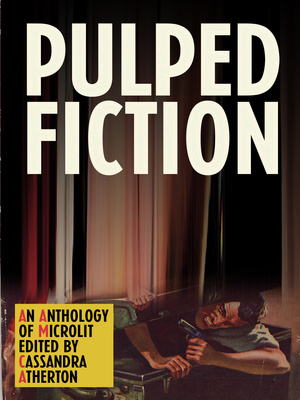 $23.00
AUD
Category: Anthologies & Journals
Cri Fi, Sci Fi, Noir, Rom Com, Lit Fic, Western, Horror, Gothic, Fantasy, Fairytale... In Spineless Wonders' latest anthology of microlit, writers were invited to play with genre.  Here you will find some of the well-worn tropes from literature and film reshaped and manipulated – all in less than half a page. The results are sometimes political, sometimes philosophical; but always playful, witty and stunningly written.Edited by Cassandra Atherton, the anthology includes pieces by commissioned well-known writers including the award-winning joanne burns as well as new voices unearthed through the national Microlit Award named in her honour. ...Show more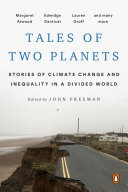 $30.00
AUD
Category: Anthologies & Journals
Building from his acclaimed anthology Tales of Two Americas, beloved writer and editor John Freeman draws together a group of our greatest writers from around the world to help us see how the environmental crisis is hitting some of the most vulnerable communities where they live.   In the past five year s, John Freeman, previously editor of Granta, has launched a celebrated international literary magazine, Freeman's, and compiled two acclaimed anthologies that deal with income inequality as it is experienced. In the course of this work, one major theme came up repeatedly: Climate change is making already dire inequalities much worse, devastating further the already devastated. But the problems of climate change are not restricted to those from the less developed world.   Galvanized by his conversations with writers and activists around the world, Freeman engaged with some of today's most eloquent storytellers, many of whom hail from the places under the most acute stress--from the capital of Burundi to Bangkok, Thailand. The response has been extraordinary. Margaret Atwood conjures with a dys¬topian future in a remarkable poem. Lauren Groff whisks us to Florida; Edwidge Danticat to Haiti; Tahmima Anam to Bangladesh; Yasmine El Rashidi to Egypt, while Eka Kurniawan brings us to Indonesia, Chinelo Okparanta to Nigeria, and Anuradha Roy to the Himalayas in the wake of floods, dam building, and drought. This is a literary all-points bulletin of fiction, essays, poems, and reportage about the most important crisis of our times. ...Show more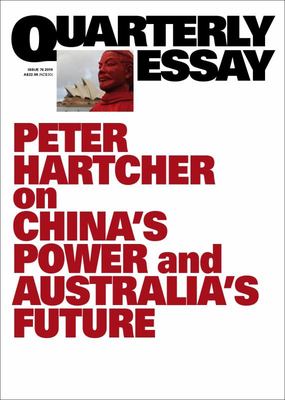 $23.00
AUD
Category: Anthologies & Journals | Series: QUARTERLY ESSAY 76
China has become a key nation for Australia's future - for our security, economy and identity. But what are China's intentions and strategy when it comes to Australia? In this gripping account, Peter Hartcher shows that we are entering an era of undeclared contestation, whether for hearts and minds, mi neral and agricultural resources, media outlets or sea lanes. Reactions include panic, xenophobia and all-the-way-with-the-USA - but the challenge now is to think hard about the national interest and respond with wisdom to a changed world. This urgent, authoritative essay blends reporting and analysis in trademark Hartcher style, and covers the local scene as well as the larger geopolitical picture. ...Show more