$33.00
AUD
Category: Sci Fi/Fantasy
The Doors of Eden is an extraordinary feat of the imagination and a page-turning adventure. Adrian Tchaikovsky, Arthur C. Clarke Award-winning author, has excelled himself with this breathtaking novel. They thought we were safe. They were wrong. Four years ago, two girls went looking for monsters on Bod min Moor. Only one came back. Lee thought she'd lost Mal, but now she's miraculously returned. But what happened that day on the moors? And where has she been all this time? Mal's reappearance hasn't gone unnoticed by MI5 officers either, and Lee isn't the only one with questions. Julian Sabreur is investigating an attack on top physicist Kay Amal Khan. This leads Julian to clash with agents of an unknown power - and they may or may not be human. His only clue is grainy footage, showing a woman who supposedly died on Bodmin Moor. Dr Khan's research was theoretical; then she found cracks between our world and parallel Earths. Now these cracks are widening, revealing extraordinary creatures. And as the doors crash open, anything could come through. 'Inventive, funny and engrossing, this book lingers long after you close it' - Tade Thompson, Arthur C. Clarke Award-winning author of Rosewater Adrian Tchaikovsky is the author of Children of Time, Children of Ruin and many other novels, novellas and short stories. Children of Time won the Arthur C. Clarke award in its 30th anniversary year. ...Show more
$23.00
AUD
Category: Sci Fi/Fantasy | Series: DUNE
Frank Herbert's classic masterpiece--a triumph of the imagination and one of the bestselling science fiction novels of all time--nominated as one of America's best-loved novels by PBS's The Great American Read.   Set on the desert planet Arrakis, Dune is the story of the boy Paul Atreides--who would bec ome known as Muad'Dib--and of a great family's ambition to bring to fruition humankind's most ancient and unattainable dream.   A stunning blend of adventure and mysticism, environmentalism and politics, Dune won the first Nebula Award, shared the Hugo Award, and formed the basis of what is undoubtedly the grandest epic in science fiction. ...Show more
$33.00
AUD
Category: Sci Fi/Fantasy | Series: The\Age of Madness Ser.
Second in the AGE OF MADNESS trilogy, THE TROUBLE WITH PEACE is the next instalment of a series which is revolutionising fantasy . . . War. Politics. Revolution. The Age of Madness has arrived . . .   Joe Abercrombie is doing some terrific work - George R. R. Martin 'No one writes with the seismic s cope or primal intensity of Joe Abercrombie' Pierce Brown 'Delightfully twisted and evil' The Guardian 'Witty, Bloody and fun' Nicholas Eames 'A vivid and jolting tale' Robin Hobb ...Show more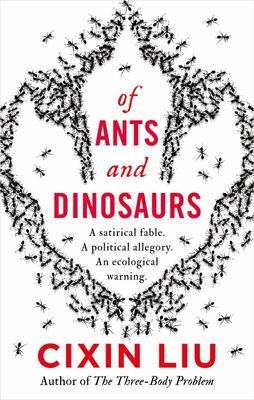 $33.00
AUD
Category: Sci Fi/Fantasy
In a sunlit clearing in central Gondwana, on an otherwise ordinary day in the late Cretaceous, the seeds of Earth's first and greatest civilization were sown in the grisly aftermath of a Tyrannosaurus' lunch. Throughout the universe, intelligence is a rare and fragile commodity - a fleeting glimmer in the long night of cosmic history. That Earth should harbour not just one but two intelligent species at the same time, defies the odds. That these species, so unalike - and yet so complementary - should forge an alliance that kindled a civilizationdefies logic. But time is endless and everythingcomes to pass eventually... The alliance between ants and dinosaurs, was of course, based on dentistry. Yet from such humble beginnings came writing, mathematics, computers, fusion, antimatter and even space travel - a veritable Age of Wonder! But such magnificent industry comes at a price - a price paid first by Earth's biosphere, and then by all those dependent on it. And yet the Dinosaurs refused to heed the Ants' warning of impending ecological collapse, leaving the Ant Federation facing a single dilemma: destroy the dinosaurs, destroy a civilization... or perish alongside them? ...Show more
$20.00
AUD
Category: Sci Fi/Fantasy
Longlisted for the Bailey's Prize 2015, The New York Times Bestseller 2014, National Book Awards Finalist 2015, PEN/Faulkner Award Finalist. What was lost in the collapse: almost everything, almost everyone, but there is still such beauty. One snowy night in Toronto famous actor Arthur Leander dies on s tage whilst performing the role of a lifetime. That same evening a deadly virus touches down in North America. The world will never be the same again. Twenty years later Kirsten, an actress in the Travelling Symphony, performs Shakespeare in the settlements that have grown up since the collapse. But then her newly hopeful world is threatened. If civilization was lost, what would you preserve? And how far would you go to protect it? 'BEST NOVEL. The big one . . . One of the 2014 books that I did read stands above all the others:Station Eleven, by Emily St. John Mandel . . . beautifully written, and wonderfully elegiac, a book that I will long remember, and return to.' George R.R. Martin, author of Game of Thrones'Emily St. John Mandel's Station Eleven is that rare find that feels familiar and extraordinary at the same time. This is truly something special' Erin Morgenstern, author of The Night Circus ...Show more
Vagabond
by Hao Jingfang; Ken Liu (Translator)
$30.00
AUD
Category: Sci Fi/Fantasy
A girl, trapped between two clashing worlds, must make sense of the past and face the future. The first novel from the Hugo Award-winning author of 'Folding Bejing', Hao Jingfang, translated by the Hugo Award-winning translator of The Three-Body Problem, Ken Liu. A century ago, the Martian colonies reb elled against the rule of Earth. Having declared an independent Martian Republic, the two planets evolved along separate trajectories, becoming two incompatible worlds vastly different in their scale, economy, socio-political system, and mostly importantly of all, ideals. Inhabitants of the two planets have come to view each other with suspicion and even hatred. Five years ago, with the apparent goal of reconciliation, the Martian government sent a group of students to Earth to study humanity's home planet and act as goodwill ambassadors from the Red Planet. Now the students have returned to Mars, accompanied by a group of prominent Earth delegates, to see if the two worlds can learn to co-exist in peace and friendship. Almost immediately, negotiations break down and old enmities erupt. Luoying, a gifted Martian dancer, finds herself caught in the crosscurrents of political intrigue and philosophical warfare. Martians and Terrans, artists and politicians, old friends and new mentors, classic books and revolutionary ideas - everyone and everything challenges her, pushing her to declare her allegiance. Attuned to the hopes and fears of both her native land and the world on which she came of age, Luoying must shoulder the burden of discovering the truth through the web of lies spun by both sides. She must chart a new course between history and the future that is coalescing around her. If she fails, everything she's ever loved will be destroyed. ...Show more
$33.00
AUD
Category: Sci Fi/Fantasy | Series: The\Great Cities Trilogy Ser.
'The most celebrated science fiction and fantasy writer of her generation... Jemisin seems able to do just about everything' - NEW YORK TIMES. 'Jemisin is now a pillar of speculative fiction, breathtakingly imaginative and narratively bold' - ENTERTAINMENT WEEKLY. Five New Yorkers must band together to defend their city in the first book of a stunning new series by Hugo award-winning and New York Times bestselling author N. K. Jemisin. Every city has a soul. Some are as ancient as myths, and others are as new and destructive as children. New York City? She's got five. But every city also has a dark side. A roiling, ancient evil stirs beneath the earth, threatening to destroy the city and her five protectors unless they can come together and stop it once and for all.   ' The most critically acclaimed author in contemporary science fiction and fantasy' GQ 'N. K. Jemisin is a powerhouse of speculative fiction' - BUSTLE ...Show more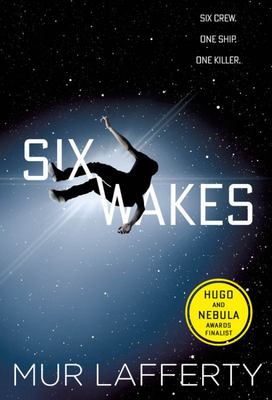 $30.00
AUD
Category: Sci Fi/Fantasy
Nominated for the Hugo Award for Best Novel 2018Nominated for the Nebula Award for Best Novel 2018 In this Hugo nominated science fiction thriller by Mur Lafferty, a crew of clones awakens aboard a space ship to find they're being hunted-and any one of them could be the killer.Maria Arena awakens in a c loning vat streaked with drying blood. She has no memory of how she died. This is new; before, when she had awakened as a new clone, her first memory was of how she died. Maria's vat is one of seven, each one holding the clone of a crew member of the starship Dormire, each clone waiting for its previous incarnation to die so it can awaken. And Maria isn't the only one to die recently...   Unlock the bold new science fiction thriller that Corey Doctorow calls Mur's "breakout book." ...Show more
$23.00
AUD
Category: Sci Fi/Fantasy | Series: Broken Earth Trilogy Ser.
Winner of the 2016 Hugo Award for Best Novel Book 1 in the record-breaking triple Hugo-Award-winning trilogy ***A New York Times Notable Book*** ***Shortlisted for the World Fantasy, Nebula, Kitschies, Audie and Locus Awards*** ***The inaugural Wired.com book club pick*** THIS IS THE WAY THE WORLD ENDS . . . FOR THE LAST TIME. IT STARTS WITH THE GREAT RED RIFT across the heart of the world's sole continent, spewing ash that blots out the sun. IT STARTS WITH DEATH, with a murdered son and a missing daughter. IT STARTS WITH BETRAYAL, and long dormant wounds rising up to fester. This is the Stillness, a land long familiar with catastrophe, where the power of the earth is wielded as a weapon. And where there is no mercy. 'Astounding' NPR 'Amazing' Ann Leckie 'Breaks uncharted ground' Library Journal 'Powerful' io9 'Elegiac, complex, and intriguing' Publishers Weekly 'Intricate and extraordinary' New York Times 'Brilliant' Washington Post The Broken Earth trilogy is complete - beginning with The Fifth Season, continuing in The Obelisk Gate (Winner of the 2017 Hugo Award for Best Novel) and concluding with The Stone Sky (Winner of the 2018 Hugo Award for Best Novel and 2018 Nebula Award). ...Show more
$20.00
AUD
Category: Sci Fi/Fantasy | Series: The\Children of Time Novels Ser.
'Children of Time is a joy from start to finish. Entertaining, smart, surprising and unexpectedly human.' - Patrick NessWinner of the 30th anniversary Arthur C. Clarke Award for Best NovelAdrian Tchaikovksy's critically acclaimed, stand-alone novel Children of Time, is the epic story of humanity's battl e for survival on a terraformed planet.Who will inherit this new Earth?The last remnants of the human race left a dying Earth, desperate to find a new home among the stars. Following in the footsteps of their ancestors, they discover the greatest treasure of the past age - a world terraformed and prepared for human life.But all is not right in this new Eden. In the long years since the planet was abandoned, the work of its architects has borne disastrous fruit. The planet is not waiting for them, pristine and unoccupied. New masters have turned it from a refuge into mankind's worst nightmare.Now two civilizations are on a collision course, both testing the boundaries of what they will do to survive. As the fate of humanity hangs in the balance, who are the true heirs of this new Earth? ...Show more
$19.00
AUD
Category: Sci Fi/Fantasy
Ray Bradbury's internationally acclaimed novel Fahrenheit 451 is a masterwork of twentieth-century literature set in a bleak, dystopian future. Guy Montag is a fireman. In his world, where television rules and literature is on the brink of extinction, firemen start fires rather than put them out. His jo b is to destroy the most illegal of commodities, the printed book, along with the houses in which they are hidden. Montag never questions the destruction and ruin his actions produce, returning each day to his bland life and wife, Mildred, who spends all day with her television "family." But then he meets an eccentric young neighbor, Clarisse, who introduces him to a past where people didn't live in fear and to a present where one sees the world through the ideas in books instead of the mindless chatter of television. When Mildred attempts suicide and Clarisse suddenly disappears, Montag begins to question everything he has ever known. He starts hiding books in his home, and when his pilfering is discovered, the fireman has to run for his life. ...Show more
$20.00
AUD
Category: Sci Fi/Fantasy
***NOW A MAJOR MOTION PICTURE DIRECTED BY STEVEN SPIELBERG***A world at stake. A quest for the ultimate prize. Are you ready? It's the year 2044, and the real world has become an ugly place. We're out of oil. We've wrecked the climate. Famine, poverty, and disease are widespread. Like most of humanity, Wade Watts escapes this depressing reality by spending his waking hours jacked into the OASIS, a sprawling virtual utopia where you can be anything you want to be, where you can live and play and fall in love on any of ten thousand planets. And like most of humanity, Wade is obsessed by the ultimate lottery ticket that lies concealed within this alternate reality- OASIS founder James Halliday, who dies with no heir, has promised that control of the OASIS - and his massive fortune - will go to the person who can solve the riddles he has left scattered throughout his creation. For years, millions have struggled fruitlessly to attain this prize, knowing only that the riddles are based in the culture of the late twentieth century. And then Wade stumbles onto the key to the first puzzle.Suddenly, he finds himself pitted against thousands of competitors in a desperate race to claim the ultimate prize, a chase that soon takes on terrifying real-world dimensions - and that will leave both Wade and his world profoundly changed.   ...Show more